Mobile classroom helps prepare emergency responders
For many years, BNSF has been actively involved in training first responders to mitigate the impacts of rail-related emergencies to people, property and the environment. These incidents are rare, but BNSF wants to be sure communities are ready to respond.
BNSF's preparedness efforts include continued collaboration with local authorities, with hundreds of community training exercises offered annually.
This year, BNSF has added a new tool to assist in this training—a mobile classroom. Designed to train local emergency responders along BNSF's large network, the mobile classroom is actually a converted boxcar. The rolling classroom includes theater-style seating and can accommodate up to 37 people for a class. The mobile classroom will travel to various locations throughout the year accompanied by a training tank car that has been fitted with the various valves used on different tanks car types for more hands-on learning.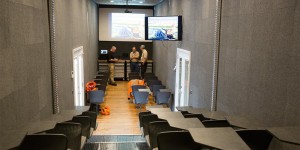 Frequently, BNSF's Hazardous Materials Safety team needs to conduct training at locations that either do not have a fire department training room or have a training room that is very far from a BNSF yard or siding where our training tank car is spotted.
"A good example is upcoming training in Edmonds, Wash. Edmonds does not have a training room available. Time is wasted for all participants and trainers traveling between the classroom and our yard," explained BNSF's Patrick Brady, general director, Hazardous Materials Safety. "We truly believe that our mission is to protect the communities that we serve. This classroom will help us deliver high-quality safety-critical hazmat training to first responders along our routes—even remote locations."
Brady estimates that the company will host at least 100 classes per year using the new classroom.
BNSF provides railroad hazmat response training to local emergency responders in communities across its network, and has provided training to more than 80,000 emergency responders since 1996. In 2015, BNSF trained more than 10,000 local emergency responders, which was a record. This year, BNSF has plans to train more than 9,000 local emergency responders.
In addition to providing local training, BNSF also shares geographic emergency response plans with state and local emergency responders. Moreover, emergency responders can use BNSF's website to participate in online hazmat training, schedule hazmat training for emergency responders, download a summary of BNSF's System Emergency Response Plan, or request a Hazmat Traffic Flow Report for their city or county. First responders can also request access to AskRail™, a mobile app that provides immediate access to accurate, real-time data about individual railcars on a train to help emergency responders make informed decisions about how to respond on the scene of a rail emergency.
About the photos: Views from inside and outside the mobile classroom.